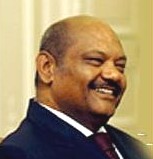 Mr.Anil Agarwal, 51, is the Chief Executive Officer of Vedanta Resources Plc, Executive Chairman of Sterlite Industries & BALCO, and also the Director of HZL and VAL.

Mr.Agarwal, who is a matriculate from Miller High School, Patna, moved to Bombay (now Mumbai) in 1975 on a small business opportunity. In his initial years, Agarwal used to collect scrap from most of the cable companies in other states and sell it in Mumbai. For 10 years, he worked in the scrap business and ran a cable company that he bought from a loan from Syndicate Bank. His father was also in the business of making aluminium conductors. In 1986, Mr.Agarwal got into the business of jelly-field cables by putting up a factory at Rs 7 crore (Rs 70 million) against the normal cost of Rs 30-40 crore (Rs 300-400 million). Sterlite Industries was thus born.

NRI Anil Agarwal's UK-based Vedanta group follows the acquisition strategy of picking up companies at a low value, pumping in investments and mining for growth. Vedanta acquired companies that were not doing too well, but the industry in which they operated had a clear potential to grow. The acquisition of ailing public sector aluminium company Balco and Hindustan Zinc are cases in point.

Mr.Agarwal's Vedanta Resources, which is an India-focused mining and metals group was listed on the London Stock Exchange in December 2003. Presently, Agarwal family's 53.8 per cent stake is worth £890 million. At the heart of Vedanta's industrial revolution lie three key metals: aluminium, copper and zinc. Most of its assets are in India, although Vedanta also has copper operations in Australia and Zambia.

Press reports in India have referred to Agarwal as the "uncrowned non-ferrous metal king of India". Comparisons have been made to that other famous Indian, Lakshmi Mittal, the steel king and Britain's wealthiest resident. In London, he owns a Mayfair property worth millions of pounds and where Vedanta's corporate head office is located.

Mr.Anil Agarwal, is keen to establish a world class, multi-disciplinary university in India, with a vision to developing India's education and research infrastructure. To be established with an endowment of up to $1 billion, Vedanta University will be of the calibre of institutes like Harvard, Stanford and Oxford.

Based on a 'not-for-profit' philosophy, the university will strive to impart world-class education and drive a cutting-edge research agenda, with an envisaged student population of more than 100,000 in the long term. The university will also aim to nurture all-round excellence, beyond the academic dimension, to produce tomorrow's Nobel Laureates, Olympic champions and community leaders. A T Kearney India Ltd, a global management consulting firm, has been appointed to programme manage this endeavour. A team of consultants from offices in India, Europe and the United States has been working on charting a roadmap for this ambitious undertaking.