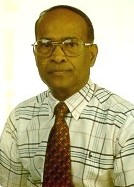 Born on January 5, 1938, Dr.Uday Sinha hails from Aurangabad, Bihar. He is a 1960 Metallurgical Engineering graduate from Bihar(now Birsa) Institute of Technology, Sindri. He holds a Masters degree in Metallurgy from New Mexico Institute of Mining & Technology, Socorro, NM and a Ph.D. from Iowa State University, Ames, Iowa.
Dr. Uday Sinha retired in Feb. 2002 as Technical Director of the Superconducting Cable Project at Southwire Company, Carrollton, Georgia, USA. He joined Southwire in 1974 and was involved with several successful development projects that included a high speed continuous casting of steel, conforming of various aluminum alloys, and research into copper rod quality improvements. His last assignment was development of a High Temperature Superconducting (HTS) Cable. This project was completed in early 2001 when a 3-single phase HTS cable was designed, tested, and installed at Southwire Company rated for 1250-A and 12.5 kV. The cable is still in operation feeding power to three of Southwire's manufacturing plants. He holds eleven U.S. patents related to his research with steel, aluminum, copper, and superconducting cable. He was awarded Southwire's most prestigious award of Engineer of the Year for 1994 and BIT Sindri Distinguished Alumnus Award in 1999. Before coming to US for higher studies, he worked for seven years with Durgapur Steel Plant and two years with the Central Engineering & Design Bureau (now called MECON).
Dr Sinha rejoined Southwire in Aug. 2005 as a full time employee to develop an ultra high strength steel wire to be used for Aluminum Conductors Steel Supported overhead high voltage transmission cable. This project has been finished and now he is working on a development of coatings to increase the lives of some components of Southwire continuous casting systems and the rolling mill rolls.
Dr.Sinha was instrumental in organizing BIT Sindri Alumni Association of North America which is now offering more than 45 scholarships to students at BIT every year since 1981. The alumni association also helped to build an eight-room alumni house and established a computer laboratory which is named as Dr.Uday Sinha Computer Application Laboratory.
Dr.Uday Sinha wrote following update to us on October 24, 2006:
I had finished my work at Southwire about three months back and have retired again. I was able to develop a steel wire of high UTS for core application with aluminum cable. We made cables which we tested and have passed the requirements of utilities. Another news is about our work on HTS cable. The demonstration cable at Southwire is 100 ft long and there are separate three single phases. Before I had retired I was involved with the design of a coaxial High temperature superconducting cable for which I have received patent along with two researchers from Oak Ridge National Laboratory. Southwire and our partner NKT (from Denmark) along with Oak Ridge National Lab. have constructed a 200-m long flexible cable (one cable with three concentric phases) and it has been installed in American Electric Power's substation in Columbus, OH. The cable has been energized. It is now feeding power to some industrial units and housing subdivisions. It is possible now it may find real application in the industry.