Jubilee Park
Situated in the heart of Jamshedpur town, the lush green Jubilee Park is spread over an area of 237.75 acres dotted with flowerbeds, rose garden and illuminated fountains. The park has been designed around a central axis running from the founderís statue at its highest point. The focal point of the park is the breathtakingly beautiful Moghul Garden, which is inspired by the Brindaban Gardens at Mysore.

The project to develop the park was initiated in 1937 under the guidance of Mr. S Percy Lancaster. With the TISCO's Golden Jubilee in mind, the project was resumed in 1955 and its design was entrusted to Mr. B S Nirody and Mr. G H Krumbiegel who had to there credit the illustrious Brindaban Gardens of Mysore and Moghul Garden of Rashtrapati Bhawan at New Delhi. Indiaís first Prime Minister Mr.Jawahar Lal Nehru inaugurated the park. The park was presented to
the citizens of Jamshedpur by Tata Steel in its Golden Jubilee Year, 1958. Every year on 3rd March the entire park is lit up with lights and the resplendent fountains are specially illuminated to commemorate the birth anniversary of Mr. Jamshedji Nusserwanji Tata, founder of the Tata Empire.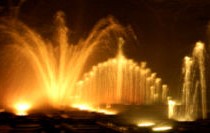 A special attraction in the Park is the musical fountain and laser show which was inaugurated by the chief minister Shri Arjun Munda on August 20, 2004. The first of its kind in India, it was inspired by the one at Sentosa Island,Singapore.

The fountain covers an area of about two acres with a sitting arrangement of about 1000 people. Built at a cost of Rs 3 crore, the fountain comprises 25 m x 12.5 m disc-type nozzle screen with two pumps and a dancing fountain, which has 225 multicolored lights, a 30 m x 9 m pool, 49 pumps and 90 fountains. The aqua screen and audio system of the fountain is from Singapore. Laser Vision, a Bangalore-based private firm, specializing in laser shows, assisted in the project. It is presently operated in the evening between 6 PM to 8.30 PM on Tuesdays,
Saturdays and Sundays. Each show is of around 30 minutes.

Jubilee Lake
Adjoining Jubilee Park, is situated Jayanti Sarowar, earlier known as Jubilee Lake is spread over an area of 40 acres. The sarovar was specially dredged and deepened for boating. There is an island at the center of the lake, which adds
immense beauty to the lake. One can enjoy boating in the lake.