Love Destiny... and Those Two Days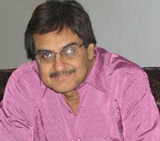 Murlidhar Srivastava, Patna
Author of the novel
Murlidhar Srivastava, Ex Sr. Executive of Indian Drugs & Pharmaceuticals Ltd, from Patna has come up with his first English fiction novel "Love Destiny… and Those Two Days" in which he has tried to raise a pressing issue of superstition especially the overdose of astro predictions, belief etc through a Love Story in his book. Some other emotive family issues too have been knit around this love tale by him…..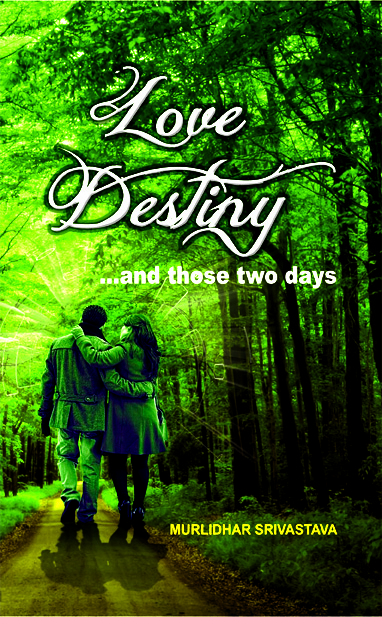 Mr Srivastava was recently interviewed by the Telegraph in Patna Book Fair in which he explained that he was not against Astrology, but our lives should not be controlled by superstitions. There is a limit to everything.
Click the image below to read Mr Srivastava's interview published in Telegraph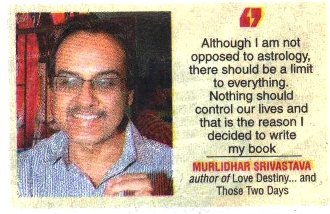 Summary of the novel: Love Destiny .... and those two days
He loves her intensely....
She loves him deeply. Does she.....?
One evening she walks away, walks away without answering a word to him. Twenty-two years later, they meet accidentally in a mall, when both have some grey hairs and few wrinkles on their faces......
What could happen in just two days? The question kept on haunting Mayur despite best efforts to forget. And Shobha?. did she manage the twists & turns of destiny correctly? ???
Was Chandani, wedded after a perfect match of horoscopes to a well settled boy from a premium institution, able to pull off her marriage?
Did Verma aunty, who always lived in tears when her only son settled permanently in US get the care and attention in the winter of her life?
Astro predictions, Horoscope, belief-how far one should go in believing on these? Does over belief weaken one's ability to rationally look at a thing or a problem?
A Mystifying Saga of Love, Betrayal and Belief....
The book is available online at the following web sites:
1. Flipkart.com
2. Amegabooks.com
3. Bookadda.com
Posted on: April 02, 2012 02:45 PM IST