One More Star Added To The Glory of Bihar

By Rajesh K Shreevastava
2 May, 2012
BIHAR SAMAJ NAVI MUMBAI, Phone: 828612 0101, Email: samajbihar@gmail.com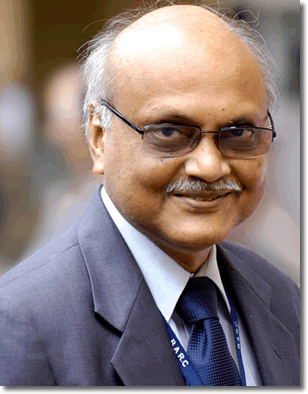 Ratan Kumar Sinha, Director of the Bhabha Atomic Research Centre, who originally hails from Bhagalpur in Bihar, on Monday took over as Chairman of the Atomic Energy Commission (AEC) and Secretary Department of Atomic Energy from Srikumar Banerjee, who retired after 45 years of distinguished service. He assumed charge at a simple ceremony in Mumbai.

Experts say that his appointment comes at a time when India plans to expand its nuclear power generation capacities exponentially and has set an ambitious target generating 63,000 MW of atomic power by 2032.
Born on October 23, 1951, Mr. Sinha joined the 16th batch of the BARC Training School in 1973 and has been guiding the next generation Advanced Heavy Water Reactor (AHWR). He did his Mechanical Engineering from the then Bihar College of Engineering, now NIT Patna, in 1973. In fact he was the topper in his branch.
Sinha spearheaded the development of several remote inspection technologies to address inspection, life extension and replacement of the coolant channel components of pressurised heavy water reactors (PHWRs), which has enabled continued safe operation of seven Indian PHWRs up to nearly ten full power years. He has also contributed to the rehabilitation of the two reactors of Madras Atomic Power Station (MAPS) in Kalpakkam, following the failure of the moderator inlet manifold inside the calandria vessel there.
Mr Sinha was also associated with the design, development and installation of coolant channels and other core-internal structural components of the country's first indigenous 100 MW Dhruva Research Reactor at BARC. Reports from Mumbai said that in his farewell speech, the outgoing chairman Mr Banerjee emphasised the continuity of the programme of DAE, which has both short and long term goals for expanding the nuclear installed capacity in the country for making larger contribution to the energy sector.
He also emphasised on expansion in deployment of other technologies being pursued by the DAE for larger societal benefits.
Posted on: May 02, 2012 11:24 AM IST