Rehabilitation of Muzaffarnagar communal violence survivors is State's responsibility

By Bobby Ramakant, CNS
January 8, 2014
The author is the Health Editor at Citizen News Service (CNS) and was awarded the Falling Walls Science Journalism Fellowship 2013 in Berlin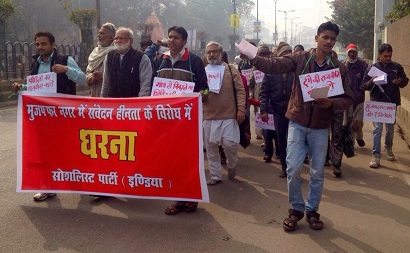 Rehabilitating communal violence survivors is State's responsibility, was echoed by the members of Socialist Party (India) in their procession and demonstration in UP state capital of Lucknow on 8th January 2014. Since permission was not granted to Socialist Party (India) to hold the demonstration at Gandhi Pratima in Lucknow city-centre (Hazratganj), the administration received the memorandum from them, after which this demonstration converted into a procession that marched to Lakshman Mela grounds where it continued the protest till the evening.
Dr Sandeep Pandey, Magsaysay Awardee and Vice President of Socialist Party (India) told Citizen News Service (CNS): "Muzaffarnagar communal violence was the most painful incidence since independence. What triggered communal riots is disputed but there is no doubt in the fact that minority Muslims suffered the most. Jat community is relatively well-off in this region and Muslim community usually forms the labour force. Many more Muslim people were forced to leave behind their homes, died or their women folk raped in this violent pogrom. In many incidents cases are yet to be filed and hardly any action has been taken where cases were filed. Police is also not challenging the might of the local powerful Jat community. When government or local administration tries to help those in-need (many of whom come from Muslim community) then they get blamed for favouring the minorities. Perhaps this is the reason why state government has not come out openly to help those in need. Most relief camps were those of Muslim people which is an indicator that worst affected were the Muslims in this communal riot. The longer the people are staying in relief camps, more is the embarrassment to the state government. That is why the government is now intimidating victims of communal violence to leave these relief camps. It is important to realize that most relief camps were not even being managed by the government. These camps were being coordinated by organizations such as Jamayat-Ulema-Hind where government supplied relief materials."
Girish Kumar Pandey, State President of Socialist Party (India) added: "Most Muslim families who were forced to abandon their homes after extreme humiliation and violence, are reluctant to go back to their native villages. The challenge that confronts us is where should they go now? It is government's responsibility to rehabilitate them. Jamayat-Ulema-Hind is building homes for some families at a place. This is government's responsibility which it should uphold. Government cannot backtrack from its primary responsibility towards its citizens. If government is not able to give justice to these Muslim families then at least should try to fulfil their daily needs. This is indeed a matter of huge shame that on one hand children are dying of cold in relief camps in Muzaffarnagar and Shamli, and on another hand those in power are busy in celebrating Saifai festival. Socialist Party (India) strongly condemns this irony. Socialist Party (India) believes that one indicator of a strong democracy is how secure are its minority communities." (CNS)
--- Shared under Creative Commons (CC) Attribution License
Posted on: January 08, 2014 07:56 PM IST