A fake encounter

By Dr Sandeep Pandey, SR Darapuri and Aridamanjit Singh
August 29, 2009

Dr Sandeep Pandey: Noted social activist, President of People's Union for Human Rights (PUHR) and Magsaysay Awardee (2002)

SR Darapuri (9415164845): Inspector General (IG) Police (retd) and Vice President of People's Union for Civil Liberties (PUCL), UP

Aridamanjit Singh (9466283343): Deputy Commandant (retd), Border Security Force (BSF)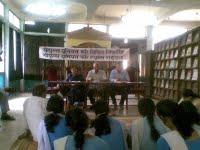 There are reasons to believe that the killing of two alleged Pakistani terrorists by NOIDA police and UP ATS in the early hours (2:15 am) of Republic Day, 26th January, 2009, was a fake encounter and that these two killed are probably the same Kashmiri youth who are mentioned in the account 'A Conscience Encountered' reproduced below which had exposed a planned encounter in October, 2008, in Lucknow. It is possible that these two youth had become a liability for the police and therefore were eliminated. Reasons that this encounter appears to be fake are:
(1) The Pakistani identity is not conclusively established. The names given out by police and ATS are Abu Ismail and Farooq. One passport recovered from them is in the name of Ali Ahmad. Farooq has made a dying declaration that he and Ismail are Pakistani nationals. The police are yet to name a terror outfit to which the two belonged. The DIG Meerut claimed that the terrorists also had two identity cards in the name of students of two Indian institutions. (Two Kashmiri youth who were to be encountered in October were kept in Meerut – see the following account).
(2) Two AK-47 were recovered from the terrorists which were not used in self defence even when police used fire. (These guns are probably the same as ones bought for the planned October encounter in Lucknow – see the following account).

(3) There are conflicting claims about chase before the terrorists were shot dead. ATS claims that terrorists were chased from the Amity University check post, 6 km from Sector 97 in NOIDA whereas the NOIDA police claims that they were chased for 25 kms from Lal Kuan in Ghaziabad that would have crossed at least 5 police posts on the way. None of the police posts intervened.
(4) Sector 97 in NOIDA has also been the site of two other recent encounters.

(5) The terrorists had stopped at a NOIDA tea stall to ask for directions from a man, who coincidentally was a police informer.

(6) The Gypsy used by police in the encounter had a few number plates lying inside which were seen immediately after the encounter. The Gypsy has since gone missing.
(7) There is one bullet hole on the windshield of the Gypsy which could not have been caused by the AK-47s, the only firearm recovered from the terrorists, whereas there are no bullet marks on the Maruti 800 used by the terrorists.

(8) The credibility of the operation was questioned immediately on following two days by two national dailies.
[Reference: 'New Encounter in an Old Bottle' by Neha Dixit, 'Tehelka', 14 February, 2009, Vol. 6, Issue 6, p. 23-24]
www.citizen-news.org
Posted on: August 29, 2009 04:02 PM IST