Bihar and Jharkhand News Service - BJNS
News Focus and Articles
Be the change you want to see in the world: Pushpa Devi


By Shobha Shukla, Citizen News Service - CNS
Posted on: June 17, 2015

This article is part of a soon-to-be-released Oxfam India publication: "The Leader Lies In You - Success stories of women farmers in UP"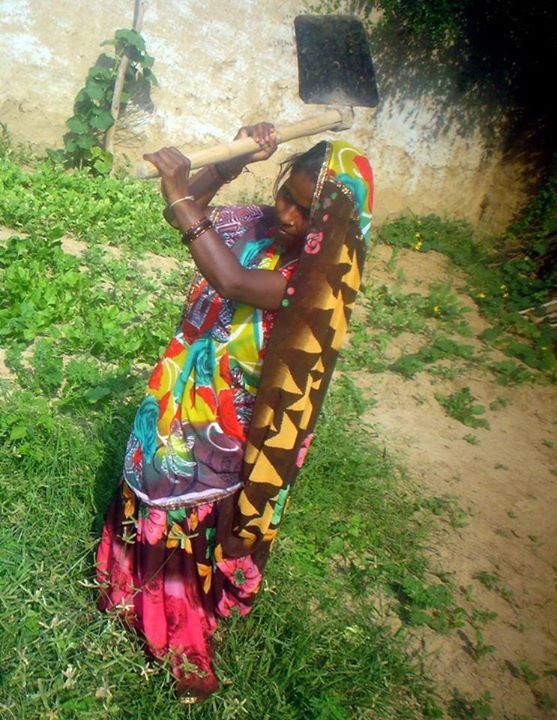 Pushpa lives with her skilled-worker husband and four children—2 girls and 2 boys. Apart from being a woman farmer, she also doubles up as an ASHA bahu (Accredited Social Health Activist worker). Pushpa was born in a family of farmers in a village of Jalaun district. They were 6 siblings. Her father passed away when she was very young, and her mother and brothers took up to farming so that family sustenance could be maintained. She studied till class 8 and then marriage brought an end to her education.

Pushpa got married when she was 13. Her husband was studying in high school then. "When I came to my parents-in-law's place after marriage for the first time, a warm reception was given to me. But after that life turned sour. They did not leave any opportunity to make me feel that I was failing to fulfill my responsibility as a daughter-in-law. I was even thrown out of the house on one occasion. I was not allowed to step out on the road or speak with any outsider. My husband too sided with his parents and would physically beat and abuse me. This continued over time and slowly we drifted apart from the family".

One Manorama didi has been a very positive influence in Pushpa's life. "She organized us women into a self-help group (SHG) and convinced my husband too, who was earlier opposing my association with her initiative. Now he himself comes to the meetings and is taking the work forward proactively. Also since he got associated with this movement he has never raised his hand on me".

Her father-in-law owns 14 bighas of land for agriculture. He has not yet divided the property between his two sons but has given 2 bighas each to them and rest 10 bighas are with him, which he sub-lets to other farmers.

Her work and achievements

Her husband earns enough to feed the family. But Pushpa argues that life is not just about feeding one's family. A positive influence came into their lives when she and her husband got associated with the Aaroh Mahila Kisaan Manch ('Aaroh' is a campaign for rights and recognition of women farmers in Uttar Pradesh supported by Oxfam India). She started doing her own farming after getting associated with the SHG and has been doing farming since 4 years now.

Pushpa had never done any farm activity while at her parents' place. Her participation in farming increased over time after marriage. Slowly she was allowed to do activities such as take the cattle for grazing, deliver lunch for men folk working in the fields, take grains for grinding, take care of cattle livestock, and as she gained experience in a range of farm activities she eventually ended up managing her own farmland. She did learn it the hard way on the field, but it is panning out well. After separating from her parents-in-law, she worked as a farm labourer in the fields and her husband worked as an artisan. But when her husband got 2 bighas of his family land, she first grew rice, wheat, and til (sesame) on it. They would sell the produce in 'Konch' market and/or door-to-door in the village itself.

When later she bought her own 2 bighas of land, after getting influenced by the SHG, she went for vegetable farming of potato, brinjal, tomato and onion. "The Samooh (SHG) has 10 women farmer members, and we used to deposit INR 30 every month; now we deposit INR 50 every month. I took a loan of INR 100,000 to buy my land, which I repaid to the SHG from the income I earned from agriculture". Now she uses organic farming methods only. All members of SHG collectively generate organic fertilizers at one place. Yield is more with organic farming she says. Pushpa is able to earn an annual income of INR 100,000 per bigha of her land. She also makes money working as an Asha bahu and her husband earns as an artisan.

Pushpa is the treasurer of the SHG and a member of Aaroh Mahila Kisan Manch. She has also received formal training in farming in Lucknow and Orai. Her association with the Aaroh Mahila Kisan Manch and the SHG has been very positive. Her experiences of attending different meetings in Lucknow, Delhi and other places have boosted her confidence to challenge wrong doings in society. Pushpa has mobilized women to protest against corruption in the public distribution system (PDS). They collectively kept banging their utensils till the contractor yielded under pressure to resume supplies of kerosene, rice etc to deserving women.

"Similarly we had lobbied for getting a woman elected as village Pradhan (Head). Our village has had a history of poor work done under male pradhans. We campaigned actively for a woman candidate, Chandan Devi, and she won. She did far more development work in the village than any other previous pradhan. Under her, a lot of decision-making and discussion took place collectively, unlike in case of male pradhans, who usually run the show single handedly or behind closed doors. She could not contest the next time, as the seat was not reserved for women but for a harijan. So now we again have a male pradhan".

Pushpa narrated another struggle during a polio vaccination drive in her village. Once, during polio drive when she was on duty as Asha bahu, while children had turned up to get vaccinated, but vaccines did not arrive till mid-day. She called up the coordinator, and he asked her to send her husband to collect the vaccines from a place called Jaganpura 3 km away. When she insisted that her husband could not leave his work, the coordinator threatened her that she will not receive her INR 75 for her duty that day. Pushpa called the Chief Medical Officer and narrated the entire episode. When the CMO acted upon her complaint vaccines reached her soon after. Pushpa has never received any benefit from government schemes as "We fail to get information in time". She does not have a BPL/APL card (below poverty line/above poverty line card). So they are not able to get any benefit of the public distribution system.

On women farmers

"Menfolk, more often than not, do not recognize the agency of women farmers despite their equal, if not more strenuous, contribution to agriculture and also to household chores and other family responsibilities. Women's work is often a thankless job and we need to assert our right to get recognition for our work and life of dignity. Our agency needs to be recognized".

On land ownership

"My husband does not have any land in his name. I own 2 bighas, and one residential plot. A woman needs to have the land rightfully in her name so that she can fend for her and her children with dignity if circumstances go against her. If we do not stake our legal right to property and land then we are the ones who are increasing the risk of being in a very bad state if men turn their backs on us at any point of time. Relationships may not last forever and if a man and woman decide to part their ways or the man walks out of the relationship, which is not uncommon, then at least the woman will have the land to earn her livelihood and fend for her and her family's needs".

On women's education, marriage and family planning

"I firmly believe it is very important for women to study – if she has studied well then not only can she teach other women and children but also progress easily in her own life. Denying education to women is only going to make their lives more miserable if circumstances turn adverse. I am continuing my education and have filled the form for Class12 exam. My children are studying in primary school. I will give all of them a good education". "No one should get married early. It is important for boys and girls to finish education, become self-reliant and then marry. Especially when girls are married early they become physically weak and likely to get sick too".

"My family size became big but I will say that one should be careful to keep the family small – so that we are able to meet everyone's needs in the best possible way. When we have more children, then we are more likely to think on lines of prioritizing education of male child over female child – which is so unfair. So I will strongly advocate for smaller family size and no gender bias when it comes to education for children".

Then and now

"Life has changed a lot in terms of how I myself and others perceive me. Earlier I was not allowed to step out of the house but now I confidently talk to and help other women too. I also feel comfortable in organizing and conducting meetings, associating with other Asha bahus and going house-to-house for child immunization. I can fearlessly and confidently talk with menfolk. Earlier we did not have anything of our own but now we own farming land, we own our house, and are able to meet our family needs and responsibilities. In farming, water was always a scarce resource. So finally we succeeded in saving and getting a boring well drilled."

"I have had to work hard over years, save bit-by-bit and also seek help from self-help group to buy my land. The going has not been easy but I am proud that with my determination and help from right-minded people I am where I am today and that is no mean achievement. I have even gone back to my studies."

On women empowerment

Since she got associated with the movement for land rights of women farmers, Pushpa became convinced of the importance for women farmers like her to own their land legally. "It is very important for girls and women not to tolerate violence and speak up. Breaking this silence is very important in the fight we are waging to recognize our agency in development justice. If things do not seem to change despite raising one's voice then we must take legal recourse and reach out to organizations or SHGs to help in our fight for justice."

"It is important to understand that no one can do it all alone. The fight for ending gender based discrimination and injustice is a long road ahead. We need to unite and organize ourselves, encourage each other, share our learnings with each other and progress collectively. We need to mobilize people to come together for a cause – be it reclaiming your right from your husband or father-in-law or any other person. And it is never too late to make a start".


--- Shared under Creative Commons (CC) Attribution License
The views expressed in the article are those of the author(s) only. This web site not necessarily subscribes to the views and opinions expressed in the article.