Rickshaw Pullersí Day At Loreto, Lucknow

By Shobha Shukla
October 28, 2009
The author is the Editor of Citizen News Service (CNS), has worked earlier with State Planning Institute, UP, and teaches Physics at India's prestigious Loreto Convent. Email: shobha@citizen-news.org, website: www.citizen-news.org
It was indeed a programme with a difference. In true keeping the true spirit of Loreto, Tuesday, the 27th of October (which incidentally is also the International Hand Washing Day), saw this missionary school, open its gates to 55 odd rickshaw (a three wheeled pedalled vehicle, used as a common mode of transport in Indian towns) drivers, as a gesture of respect to this marginalised section of society.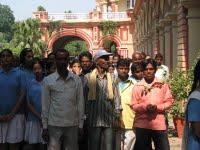 Every morning and afternoon, come rain or blistering sunshine, these men of all ages, old and young, ferry the school children from their homes to school and back. But today those very children and their class mates and teachers joined hands to recognize the services which largely go unheeded. It was indeed a proud moment for all of us at Loreto to be part of a 'Giving, gentle as silence'.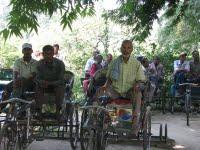 It was an afternoon filled with meaningful entertainment. The students presented a street play on the theme of 'God Helps Those Who Help Themselves'. Two doctors from the Sanjay Gandhi Post Graduate Institute of Medical Sciences (SGPGIMS) gave a presentation on general hygiene and maternal health under the banner of Health Oriented Programme and Education (HOPE).
Dr Prashant Agarwal, stressed upon the importance of clean toilet habits and washing of hands. This itself, reduces the incidence of many diseases by 45%. The simple gesture of washing hands thoroughly before eating is an effective way of reducing diarrhoea and pneumonia. Keeping our surroundings clean, does not require money, but just the right attitude which should be developed in all of us, irrespective of our social status. Another very pertinent observation made by the medical team was about the infamous spitting habit of Indians. Most of the rickshaw drivers confessed to be habitual tobacco/ gutkha users. They were exhorted to get rid of this habit. The doctor asked them to perform a simple test by putting their fingers inside their mouths. The pan masala/gutkha users' mouth was bound to open less as the skin inside the mouth contracts on prolonged use of tobacco products.
Dr Banani Poddar spoke on Maternal and Child Health. She stressed on the need of taking good care of the mother during pregnancy, in order that she deliver a healthy child, who should be fed on mother's milk alone during the first four months of infancy. No other nourishment, not even water, is required-such is the nutritional value of this diet. Tinned food supplements should be a big No No, as they are merely of cosmetic value, and may do harm than good.
The Principal of Loreto Convent requested them to send their children to school, offering to admit them in parallel run school of Loreto for under-privileged children. A free medical check up of all the special invitees was done by doctors of SGPGI and by Dr Verma of the Civil Hospital. They seemed a little hesitant in the beginning but gradually each one gave his blood for blood group and haemoglobin testing.
Posted on: October 28, 2009 06:14 PM IST